SPRING / SUMMER 2020 BUYBACK
A second Buyback Session for the
SPRING+SUMMER 2020 SEMESTERS
will be held August 12, 13, & 14
From 9:00am - 5:00pm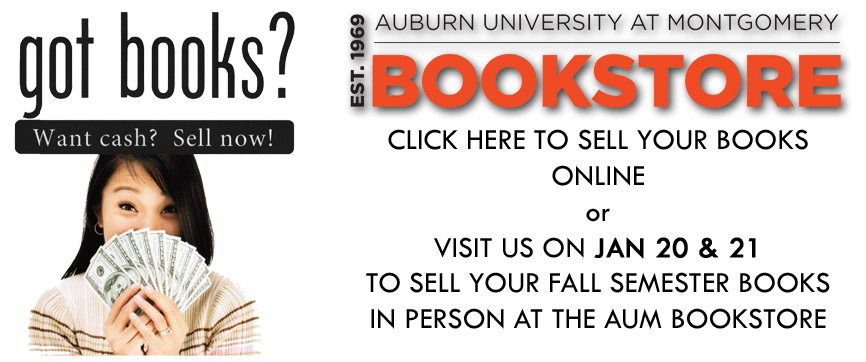 STORE HOURS
We are currently open
Monday - Friday
8:00am - 5:00pm
Due to recent events, it may take 3 to 5 business days to process web orders as opposed to the usual 24-48 hours.
We appreciate your patience during this time.
eBOOKS
If your textbook has an eBook option available,
you can place an order for that eBook in the Checkout section of warhawkshop.redshelf.com .
RENTAL RETURNS FOR SPRING 2020
The original return date for Spring 2020 rentals was May 8, 2020.
Due to the current situation regarding the COVID-19 epidemic, we have pushed our due date back.
The updated due date for Spring 2020 rentals is May 29, 2020.
You may mail your rental book to us by sending your book to the following address:
AUM BOOKSTORE
7400 EAST DRIVE
TAYLOR CENTER
MONTGOMERY AL 36117
GRADUATION
The Spring 2020 Commencement Services have been rescheduled for Saturday, August 15, 2020.
If you would like your Cap & Gown mailed to you, please visit the following page:
There you can choose the cap & gown that matches
your major, your height, and the level of the degree you're receiving.
Bachelor's Degree Cap & Gown Master's Degree Cap & Gown
You may also pick up your cap & gown at the Bookstore after we reopen and return to normal operating hours.
At this time we do not have a scheduled reopen date.
Please continue to check our website for any updates.
AUM CORONAVIRUS UPDATES
For official updates from
Auburn University at Montgomery,
please visit:
www.aum.edu/coronavirus